The hat I made for myself!! Remember the
zipper rose
I made? It found itself a new home, I think it is perfect for this hat!!
Ooops, sorry about that!! The band is folded under a bit. Hubs isn't fond of taking pictures, so oh, well!!
You know, I wouldn't consider myself a particularly vain person but I have decided that soft-focus is definitely my friend. I am knocking the door on forty this year and next year will be the big 4-0 and I am realizing that my skin is pretty tough looking.
For those who might be interested the pattern is Newlook 6522 and the hat is view B. I think I am going to definitely make more hats. This was so easy and fun and if you wear hats as I do, you realize hats can be spendy (not as spendy as shoes perhaps - but still spendy).
I am sharing this at: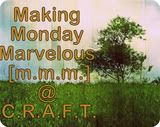 Its So Very Cheri:
Spotlight Yourself