One of my creative highs this week was finishing a gift for hubby for Father's Day. I saw this wooden shield at GW for two bucks. I almost passed it over and then I thought I could paint it and put our monogram on it.
But it occurred to me that monograms aren't really us, so I decided to stencil the white tree of Gondor (from Lord of the Rings for the non-initiated) onto the shield. I liked that someone had already hacked away at the shield so it looks as if it has seen some use.
The hardware is made of washers and shanked buttons glued together and spray painted silver. I am not completely satisfied with the stars but these will do until I can find better gems to use.
I thought the paint would be sufficient to cover the snake. I was wrong. If you look closely you can still see it. I should have sanded before I painted.
Let's Party!! The Rules:
Link to your specific post, not the main page of your blog. Link to something you made that shows off your creative genius; something that gave you a creative high kind of like the endorphin rush that runners talk about. It can be an old post or a new post but it needs to be something you made.
Give your entry a descriptive title.
Use my button to link back to the party or add a text link in your post.
I can't accept links to etsy shops or online stores.
By entering your link, you are giving me permission to use any part of your post including pictures in a spotlight at Those Northern Skies (appropriate credit and links will be given to you and your blog of course).
The Prizes:
Every Friday at the next party, I will highlight my favorite posts from the previous week.
My favorite entrant of the week will win an advertisement in my sidebar free of charge for one month (four weeks). If you do not have a shop, I can put your blog button up or if you would rather I can put up a button for your favorite charity.
In addition, for those who make a project inspired by one of my projects or one of my tutorials, I will pick one winner a month and they will get to keep an advertisement in my sidebar for two months. Plus all inspired entrants will be part of a featured post at the end of the month.
I am sharing at: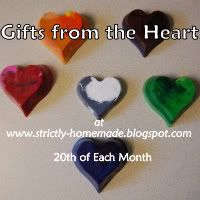 Finding Fabulous:
Frugalicious Friday
A Vision to Remember:
Check Me Out Saturday
Under the Table Dreaming:
Sunday Showcase Party