Do you remember the extra-large pepper mill that I bought at the thrift store that didn't work?
He now has a new life with two other pepper mills. They've been recreated into a charming snowman family.
I've always liked spindle snowmen like this
one
on the Plaid website. However, spindles seem expensive to me. These pepper mills were not expensive (perhaps not a dime a dozen at the thrift store but very, very cheap and very easy to find).
For those who may be curious, I used a wide ribbon spool to make Mr. Snowman's hat.
I will be sharing these at: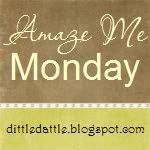 A Tiny Announcement: I am going to try to create a hundred unique styles of snowmen by the end of the year.