I made some jewelry using the hands from clocks. I am pretty sure the really ornate hand in the middle comes from one of the clock pieces that I used for this mixed media piece.
The ornate clock hand is embellished with a pearl bead.
I made earrings to go with the necklace but C isn't old enough to wear earrings (this is really my jewelry but I need a model).
I will be sharing this at: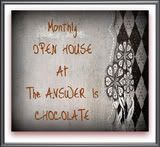 >