Don't forget to sign-up for my giveaway!!
This is what I spent a huge part of yesterday
wasting
spending my time working on. A pillow for my MIL for Mother's Day. I am thrilled with how it turned out. If you click on the image below you can read the text.
The first photos is one of my favorite photos of my husband as a child. He is at the dentist office and about to get a gold cap on one of his front teeth. The second photo is my husband now. I can't wait til my MIL sees it, she doesn't know he has a beard.
The burlap is recycled coffee bean bags. The front of the pillow is my first effort at printing a photo directly onto regular fabric. It was fun and I can see loads of potential projects from it. I sewed lace, and jute braid around the front and then I hand stitched down jute twine adding glass pearls as I went.
There are four different buttons in the corners from my button stash and I used lace to make three rosettes. I am really pleased with this and wish it were mine (text aside). :)
Don't forget to
sign-up
for my give-away.
I am sharing this at: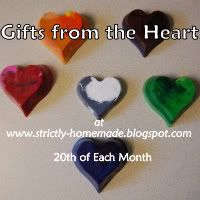 The Girl Creative:
Just Something I Whipped Up
Between Naps on the Porch:
Metamorphosis Monday
Coastal Charm:
Nifty Thrifty Tuesday
These Creative Juices:
Linky Party
My House of Giggles:
Tuesday Talent Show
My Backyard Eden:
Make it Yours Day
It So Very Cheri:
Spotlight Yourself
I am Only One, but Still I am One:
Check Me Out Saturday
Craft Envy:
Saturday Spotlight
Finding Fabulous:
Frugalicious Friday